Tools for Zinsser Automated Platforms
Automated Centrifugation
High-performance centrifuges can be installed and integrated onto the deck of Zinsser liquid handling automation platforms. Automated centrifuges are specially-made for robotic applications and require two main features in order to be integrated to the liquid handling platform.
Access position in the lid with remote-controlled door allows the robot to place or pick up labware while allowing the environment in the chamber to be maintained during centrifugation.
The centrifuge is capable of stopping the rotor in a precise position so the robot gripper will be able to access the labware in the rotor..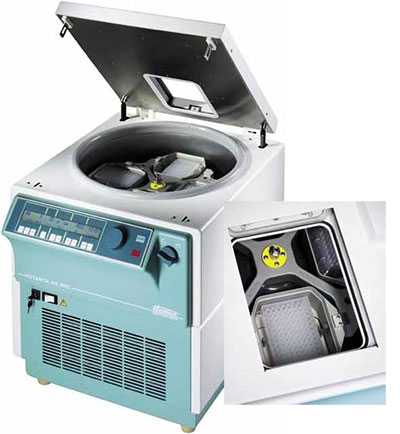 Complete methods involving centrifugation steps can be fully automated, eliminating the need for manual intervention and providing more reliable and reproducible processes from beginning to end. Liquid handling and powder handling can be performed in centrifuge tubes or microplates and combined with multiple centrifugation steps.
Automated centrifuges are available with up to 6,200 rpm (6,446 RCF), cooling to -20C, and up to 4 x 250 ml capacity.
Zinsser automated liquid handling platforms are unique on the market because of the selection of high-performance tools that can be installed on the deck. The ability to select from this list of tools allows the user to configure a system that will fully automate the required application, whether it requires liquid handling, powder handling, weighing, heating, cooling, vortexing, pressurization, vacuum, or almost anything that can be imagined.
Please contact us for more information about this tool or any other tools you are interested in.